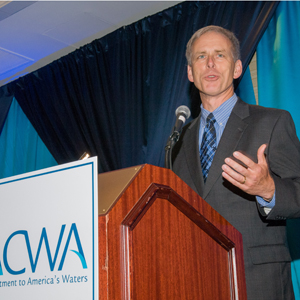 Congratulations to Jeff Theerman, Vice President and Senior Utility Consultant for WDBC Member and leading nationwide environmental engineering firm Brown and Caldwell.  Earlier this month, Jeff was honored with the Distinguished Service Award by the National Association of Clean Water Agencies at the association's meeting in Washington, D.C.
The Distinguished Service Award is reserved for individuals formerly representing NACWA member agencies who, during their representation of their utility, maintained an active and distinguished role in the Association in addition to exemplifying a strong dedication to the clean water industry.
Before joining BC, Theerman served as Metropolitan St. Louis Sewer District's Executive Director and led one of the largest wastewater and stormwater management utilities in the United States, providing services to approximately 1.4 million people in the city of St. Louis and St. Louis County. Most recently, Theerman led the District's management team in negotiating a $4.7 billion consent decree with the USEPA for the multi-decade Capital Improvement and Replacement Plan.
A member of NACWA's board of directors since 2004, Theerman served as the organization's president, vice president, secretary, and treasurer.
Please join us in congratulating both Jeff and Brown & Caldwell on this recognition.